A new article-pandemic restaurant archetype emerges about the globe, from Turin to Bangkok.
The Third Spot, St. Petersburg, Russia by DA Bureau
The courtyard of an abandoned 1843 mansion—used as a railway museum in the pre-Revolution Soviet period and currently currently being restored and remodeled by this firm—has been remodeled into a festive pop-up room for foodstuff and artwork festivals with beachy larch components, bivalve allusions, and a reflective aluminum-foil curtain on the facade. 
Oceanica, Makhachkala, Russia by Studio Shoo
For this seafood restaurant, the 5-calendar year-previous Moscow agency specializing in hospitality dove into marine-inspired aspects, using nautical rope as partitions, wavy coral-coloured polycarbonate by home windows, and droplet-condition pendant discs, all surrounded by regional artist Roman Lozovoy's aquatic murals and a sea of tinted concrete flooring. 
Samna, Kiev, Ukraine by YOD Design
With a 19th-century materials palette—oak, leather-based, copper, steel, brick, plaster—and interiors bathed in a prosperous, heat glow, the project's aspects nod to the exiled Turkish statesman (and attainable inspirer of The Rely of Monte Cristo) who when lived in the 1797 home that the three-stage Center Japanese eatery now partly occupies. 
Bun Burger, Turin, Italy by Masquespacio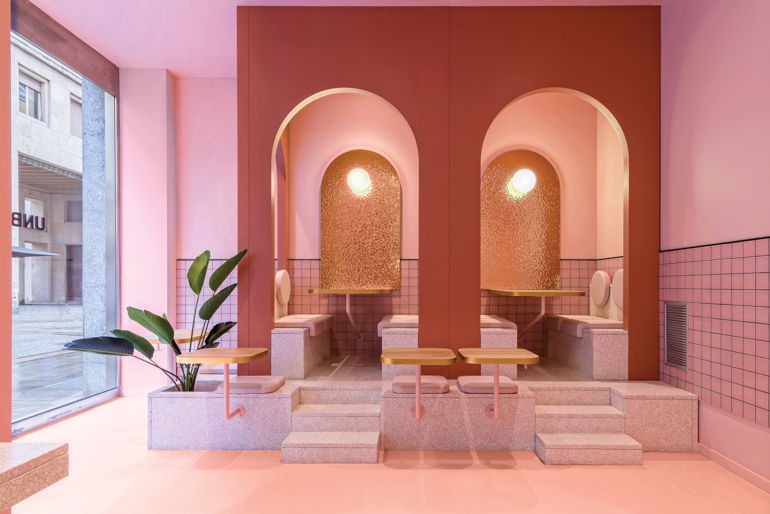 Memphis forms meet millennial shades and fonts at this swimming pool–inspired outpost of a Milan-centered chain, its arches, ceramic tile, changes in flooring level, and monochromatic palettes helping to create a few distinctive environments corresponding to 3 storefront home windows. 
Spice & Barley Restaurant, Bangkok by Enter Tasks
Evoking amber lager becoming poured into a tall glass, the striking golden columns that billow up to the 98-foot-higher ceiling in this craft-beer lounge are the consequence of fusing 3D technological innovation with regular Thai solutions of weaving normal rattan, a sustainable product best for making such absolutely free-flowing geometries.